What Is The Carbon Black Doll Facial?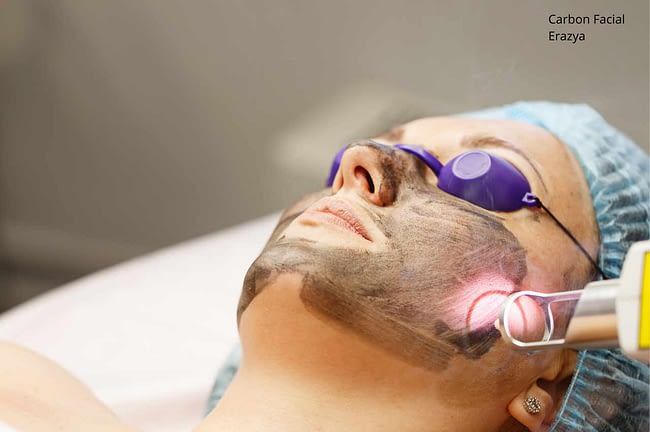 Carbon Black Doll Facial treatment is often referred to as "Carbon Laser Skin Rejuvenation".
This type of skin treatment is non-invasive and pain-free treatment. It is great for minor skin problems. and gives you the best laser facial experience. It comes from a state of the art Q-switched Nd-Yag laser machine. This machine works wonders on your skin. by producing short, high-intensity pulses of light. Then destroy dirt that may be clogging up your pores.
A short course of 4 – 6 sessions of our Carbon Black Doll Facial treatment can give noticeable brightening of complexion. and most people opt to continue with regular sessions to maintain the skin's clarity. During the procedure, the laser cleans the face. A thin layer of carbon lotion (as a photo enhancer) is applied. The laser light is absorbed by the black particles of carbon. which blast off along with the superficial dead layer of skin as laser light moves across the skin. The laser selectively targets facial imperfections. Such as enlarged pores, pigmentation, scarring, and rough texture. Pore with oil and dead skin are cleared off. The rejuvenating effect of 1320nm laser causes plumping up of the skin. The whole procedure takes 15-30 minutes. Most important is there is no downtime. You can go back to work or your daily life without any delay.
Call us on 07832 692957 to book an appointment or for further information.
How does Laser Carbon Skin Rejuvenation work?
The laser treatment is suitable for all ages and can lighten age spots and dark spots, fade freckles, reduce wrinkles and fine lines, shrink pores, and remove blackheads and acne. It can also lift and tighten the skin, improve elasticity, moisturise and give a bright and radiant complexion.
The principle behind the black doll treatment is that carbon powder possesses a strong capacity to absorb dirt deep in the pores. The face (and neck) is first coated with carbon nano-particles. Next, the laser is used on the skin. The medical-graded laser allows the particles to penetrate deep into pores, shattering the epidermal keratinocytes and dirt. The heat from the laser also enables the carbon powder to be absorbed into the skin, stimulating the skin cells. Regeneration occurs by encouraging the growth of collagen and elastin fibres.
Call us on 07832 692957 to book an appointment or for further information.
Carbon Black Doll Facial at
ERAZYA LASER TREATMENTS
30 Ashbourne Road Leek ST13 5AS